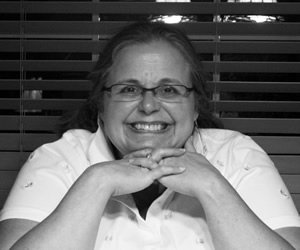 Ellen Drake, a North Carolina potter, was introduced to pottery in 1996 after the sudden loss of her thirteen-year-old son, William. In the clay, she found bits of God's Grace not only in the working and kneading of the clay, but also in the goodness of her fellow potters.
At first Ellen threw pots on the wheel, but over time she began hand-building lots and lots of simple little angels. Initially she signed her pots with a large EL, but eventually her signature became four small dots in a row. She uses a bent nail from her house to make the dot impressions. These four dots represent her family – Bill, Ellen, Jean Gray and William. Ellen's artist daughter Jean Gray Mohs has been drawn to the four dots theme as well – using four dots in her website name – and even having it subtly tattooed on her forearm. The significance of this is that even though William has now been gone for twenty-seven years, he is still a powerful presence in their lives.
An important update is that Ellen and Bill's daughter Jean Gray underwent a double lung transplant at Duke University Hospital in June of 2019. Her brother William donated his organs in early 1996 and now she became the recipient of this remarkable gift of life. In this experience, Ellen again found God's Grace – this time in the goodness and generosity of family, friends, neighbors, and the entire Transplant Staff at Duke - and in the example of Jean Gray's extraordinary courage, remarkable resilience and infectious positive attitude.
Throughout the years, feeling ill-equipped to comprehend life's challenges, Ellen has found that sculpting the angels brings both a joy and an inner stillness to her life. The process has helped her navigate her grief, find comfort in the storm of loss, connect with her faith and manage her anxiety over life's unexpected turns. It is her hope that these joyful, healing and grounding qualities will embed themselves in the angels – that the clay will bring others the comfort and joy that she has experienced.
Ellen's angels have taken flight to many places – all over the United States – also in New Zealand, Africa, China, the Dominican Republic, Germany, Botswana, France and Italy. They have been used in the pastoral ministry at her church as well as been sold in church bookstores and at a local art gallery.
"The clay grounds me," she says, "and I love sending all these little guys (angels) off to do their work – to tend to others as well."